Family Ambystomatidae
Description:

3" to 6" snout-vent length; to about 12½" overall. Color variable, ranging from golden yellow through olive green to black. Often with round spots or irregular blotches of black on light background, or yellow spots on black body color. Larvae with three pair of gills.
Elevation Range:

Up to 12,000' in southwestern Colorado. This is the only reptile or amphibian species documented in all 64 counties of Colorado.
Subspecies in Colorado:

Ambystoma tigrinum mavortium in eastern Colorado; A. t. melanostictum in north central and northwestern Colorado; and A. t. nebulosum through the rest of central and western Colorado.
Reece (1973) distinguishes adults of the three subspecies as follows:

mavortium: yellow blotches or bars on a black background.

melanostictum: black spots or irregular blotches on a dark gray to dark cream (usually dark olive) background.

nebulosum: uniformly dark gray or dark brown, or with a reticulation of black spots or an intermingling of different shades of brown on a dark background, or with evenly dispersed round black spots on a plain gold or olive background.

Tiger salamander larvae are used as bait for bass fishing, and subspecies are occasionally transported outside their normal range by fishermen.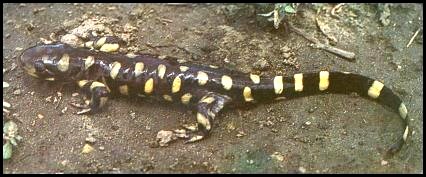 Photo from Hammerson, 1986.
Used with permission.